Deodorant Effect
In a comparative test of a formulation containing HydamerTM DCMF (0,1 %) and a formulation containing an alternative common ingredient (0,3 %), which is generally regarded as an efficient antimicrobial active, the following evaluation criteria were used: Deodorant effect, sensation, stickiness and skin compatibility. The deodorant effect and skin compatibility of the formulation containing HydamerTM DCMF was rated better. In addition to the deodorant effect, HydamerTM DCMF reduced the irritation potential of this formulation and thus improved its dermatological compatibility.
Evaluation of Odor Reduction
The effectiveness of a HydamerTM DCMF containing formulation (without added perfume) against body odor was evaluated in comparison with that of a strongly odor reducing standard formulation comprising of aluminum chlorohydrate and triclosan. It was found that a fomulation with HydamerTM DCMF demonstrated
a comparable to slightly better performance regarding customer's demands for modern deodorants. Hydamer™ DCMF also offers ideal protection against odor formation at reduced application concentrations of the individual active ingredients.
Scent Adhesion
The odor intensity and adhesion of perfume oil in a deodorant brand formulation with and without the addition of HydamerTM DCMF were evaluated in a comparative test by a panel, consisting of fragrance and laboratory specialists. The odor intensity and adhesion of the formulation containing HydamerTM DCMF were rated significantly better by both groups.
Deo use test: HydamerTM DCMF vs. Triclosan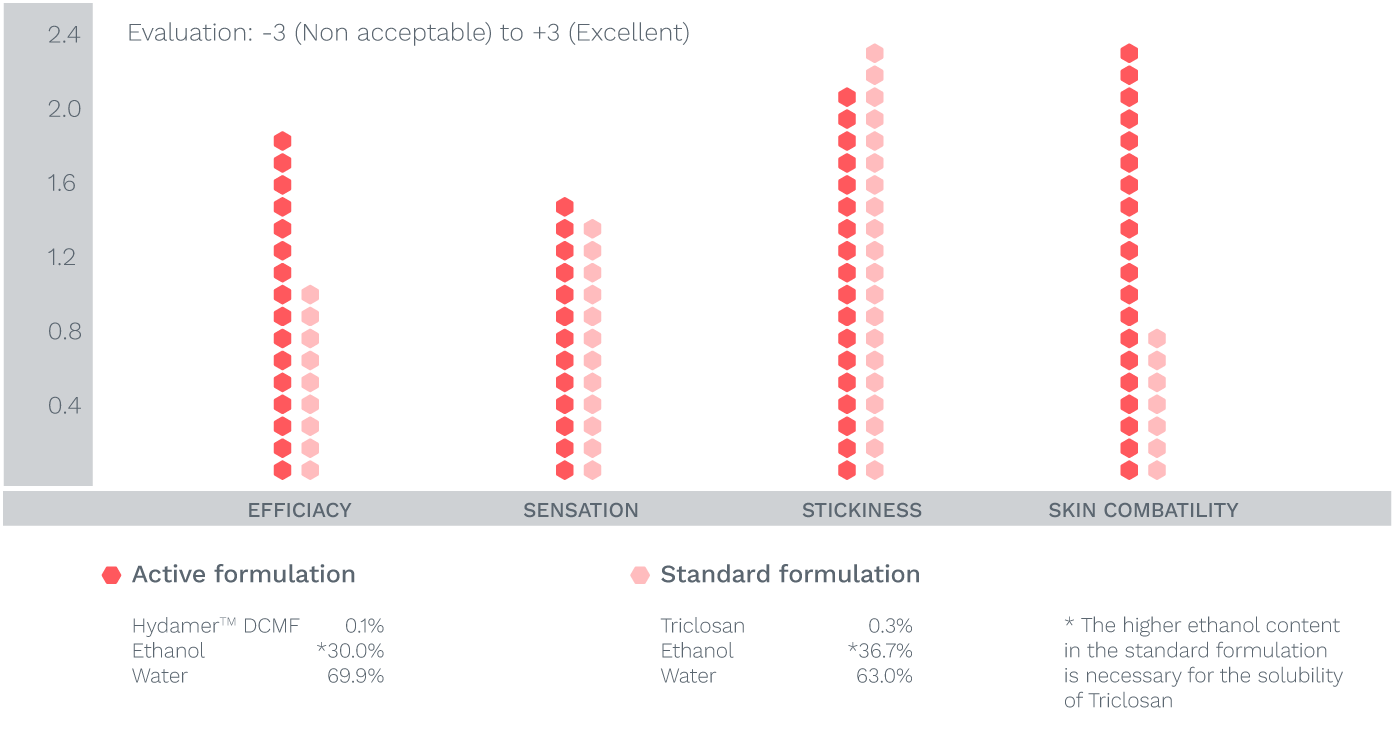 Boost your products with our natural Nordic polymer